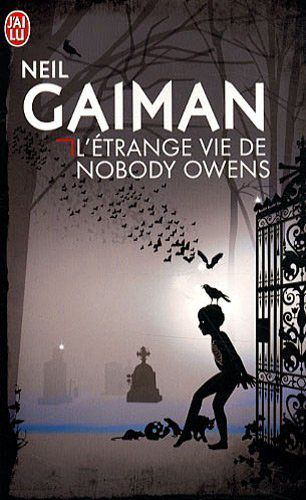 Summary : A baby miraculously escaped a mysterious assassin who has just killed his family.The newborn refuge in the nearby cemetery. Adopted by a couple of fantômes- Mr. and Mrs. Owens, a friend of Lise, an eccentric former witch once burned alive, and protected by a mysterious vampire and fascinant- Silas-, young Nobody Owens grew up happy, surrounded by love a funny family. But living among the dead may be as dangerous as to face the world of the living. Nobody because the parents of the murderer still chasing more than ever determined to fulfill his mission: kill Nobody ...
Edition : Albin Michel (Wiz)
My Opinion : For a long time I wanted to read the Neil Gaiman without ever really getting started. After repairing the error by reading Odd and Giants Ice so I threw myself into reading The Curious Life of Nobody Owens and I have to say I was not disappointed. Already I find enjoyable coverage, sober and faithful to the atmosphere of the book, most of the illustration on the inside, made ​​by Dave McKean, are superb.
Here no real plot, even if followed by red wire on the fact that the murderer's family Nobody is still looking for him, it is primarily interested in his youth. The division of the book is original each chapter representing a slice of life from the small Nobody until it reaches adulthood, all in a world that has an air of Burtonien whether by air or his little Gothic the representation that is made of the cemetery. And I must say that it works really well we let snapped up by this magical world, mysterious and dark; a world so touching that we too would have liked to have been raised in a graveyard.
The author deals with child Nobody brilliantly in this age story so all the characters, picturesque as can be, are perfectly built endearing or scary but mostly they are far from Manichaeism we sometimes find in some youth books. It's really hard not to focus on them, I must say.
Nobody's adventures are all most exciting and profound as each other despite the fact that sometimes we guess in advance what will happen, but here the author wonders in fate and especially so in store for us unexpected rebound quickly forget that these small facilities. The humor in this book is light, offering interesting against weight darker and more bitter side of life Nobody. Too bad the book is rather short enough to limit the development of history.
Regarding the writing of Neil Gaiman I must say it is really beautiful, dense for a young and very dreamlike novel infusing a breath charming his characters .. It is carried away by the words of the author enjoying this story, or rather I should say this initiatory tale, without ever getting bored. difficulty was also to rest this book before knowing the end. Only gripe, but it relates to the editor, is to have changed the original title The Graveyard Book tribute to The Jungle Book, book that inspired Neil Gaiman.
In Summary : Come and share a slice of life from the small Graveyard, you get carried away by this magical book in this dark and gothic universe and let yourself be charmed by these dream characters, deep, endearing and tender that thanks to the neat handwriting and captivating the author will make you dream until closing this book.
My rating : 9/10