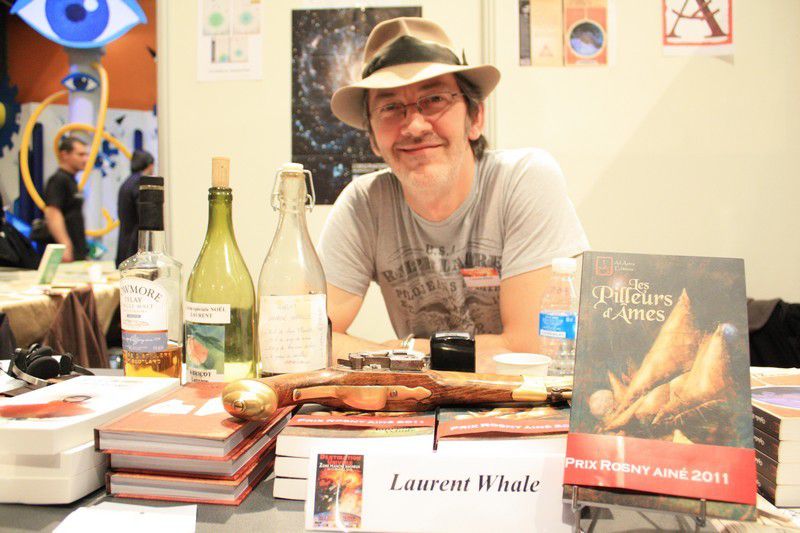 Summary : Tom Costa is swapper. But not a creepy, no.In future troubled, he survives. In a city-state to the other, aboard his microlight, he gleans China and subsistence.
And then there is San, the sweet, the lioness. The family also.
However, from the north, a greater risk that the bands of wild dogs, off-walls, famine and outcasts lies in wait.
Take action, not mourir.Tandis that, from above, THE STARS S'EN swing ...
Edition : White River
My Opinion : New partnership with the blog skritt and editions White River that allowed me to discover this book Laurent Whale. The author was not unknown to me because he also wrote The Raiders Souls On the Ad Astra editions and I heard the good. I must say that the back cover ad a really interesting story and coverage is rather successful and attractive. Note that five boards illustrations are present in my edition, I found them friendly but a little sketch.
In a not so distant future than that, the country will close in on itself and as and cities will emancipate the power that is becoming plusarrogant and win their independence.Tom Costa lives in one of its cities is a pilot and, thanks to its ultralight, allowing barter between the nearest towns. But now a growing threat is going to announce. The plot of this book is really well built, sturdy and efficient. I must say that we do not miss a single minute in this novel. The action and adrenaline are present and the author offers us the twists and turns of surprising situations even if it a little too much, I think, especially on the end of the novel. In any case we finds herself caught up in this story of survival and it's hard not to want to know more.
The Post-Apocalyptic world created by the author is really interesting and mostly plausible or governments were extinguished before the revolt of the people who was tired of suffering. A world that has closed more and more about him even to cities that have become states. People who refuse to live in the city are called Off Walls and prevent any movement. The author also offers some points of light reflections on this slow agony of power to move towards what looks almost like autarky cities. In any case we feel that the author loves airplanes and anything that flies, it makes us share but never really annoying or cumbersome so that planes do not interest me more than that.
The characters are rather well worked even if I find some, especially the secondary characters, seemed to me a little too stereotypical, see who was struggling to get out of their role agreed in advance. Tom Costa is really endearing in its simple quest for survival, although at times we find it a bit lucky in some situations when he keeps telling us otherwise. More irony and sarcasm adds, I think, a bit of humor to the character. Characters who are far from perfect but I found friendly and nice.
The pen of the author is really effective and fluid, juggling the action scenes and the scenes of lulls and never bore the reader. Then of course everything is not perfect sometimes the author offers some facilities, but nothing to bother reading. A book that should appeal to readers seeking adrenaline all supported by a strong and effective plot alternating the most tender moments with twirling times and at times offering interesting reflections. I just reproach the author, to the end (or the very end), to align the turning situations, at times it is hard to believe.
Abstract : This is an efficient book, packed with action, adrenaline, which offers a good read and that should delight lovers of Post-Apo stories. The plot is solid and effective is struggling to reveal its secrets, the characters are endearing although some are a little too stereotypical and the pen of the writer is really fluid, efficient and without downtime. Only reproach accumulation reversals late on situations that by the time it's hard to believe it really, but nothing to really spoil the reading.
My Rating : 7.5 / 10